Welcome, welcome to my Oscar Red Carpet Recap! As I mentioned yesterday, I was disappointed with almost every aspect of this year's Academy Awards. But, being the good blogger and budding fashionista I am, here are my picks for the best/worst dressed! But instead of my usual five, I only chose four for each category. Couldn't be bothered, I guess! Let's go!
You know, I'm sad that award season is over because there will be no more Ms. Kunis to brighten my day. Let's hope the directors have taken notice of her beauty and talent and will continue to cast her in meaningful roles! The red carpet just won't be the same without her, which she proved once again on the biggest awards night of the year.
What a
pretty, pretty princess
! Oh, what I would have given to be a
14-year-old Oscar Nominee
with the chance to wear this
oh-so-perfect tea-length dress
. Though she was not in
Black Swan
- instead, she played
stubborn
Mattie Ross, a young gal searching for her daddy's killer in the Coen Brothers'
True Grit
- she pulled out her
inner ballerina
in this
custom-made
,
crystal hand-embroidered Marchesa
(do you remember how to
pronounce that
?). "I drew something out, and this is exactly what I had in mind," the Best Supporting Actress nominee
gushed
to reporters. Adding a
platinum-set
Fred Leighton
heart-shaped diamond ring
,
super-cute
silver Salvatore Ferragamo
clutch with bow detail
, champagne-colored Salvatore Ferragamo
peep toes
and the most age-appropriate and gorgeous
10-caret
Fred Leighton
diamond headband
, the
adorable
Ms. Hailee Steinfeld proved she'll be a
force to be reckoned with
-
on and off camera
.
This 'lil lady (whom I loved in
Enchanted
!) was not on everyone's Best Dressed list, but I thought she looked
breath-taking
. Best Supporting Actress Nominee Ms. Amy Adams looked positively
elegant
in a
sparkling
,
midnight-blue
L'Wren Scott design. But it's that necklace that truly stands out. Some people thought it was
inappropriate
to wear a necklace like that over a
high-collared dress
, but I thought the
pop of green
on that
sequined cap-sleeved gown
was refreshing. I
love me some color
, and I love it when amazing,
fashionable
women show me how it should be done. If only I could begin to afford anything she had on, which included a
Cartier platinum and diamond necklace
with a carved 33.24-carat emerald (
$290,000
), 2-carat platinum diamond earrings (
$35,000
) and a Cartier platinum and diamond
Haute Joaillerie secret watch bracelet
with over 30 carats of carved emerald, worth a
staggering $1.025 million
. A girl can dream...
How did this
media mogul
not make it on more Best Dressed lists? Though I couldn't find any red carpet pictures of this
57-year old beauty
, I was taken aback when I saw her presenting the
Best Documentary Award
. In a
custom-designed Zac Posen obmre sequin gown
, the
legendary
Ms. Oprah Winfrey looked more
glamorous
than I've seen her in a long time. I told you I had a
thing for ombre
. Well done, Oprah, well done.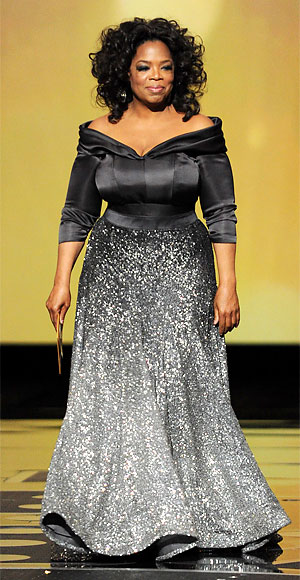 Those were my top four best dressed. I probably
could have added one more
-
Reese
? Classic, but
yawn
.
Gwyneth
? Beautiful but
no curves
.
Natalie
? One of my favorite looks on
her
, but that's not saying all that much (she's usually
a miss
for me - I especially hated that
shapeless rose dress
from the Golden Globes). So I decided to just stick to the four that I
really, truly loved
. And now for the four that I
really, truly didn't
.
Let's start with
f---ing
Melissa Leo. Is her dress made out of
f---ing doilies
? She looks like a
f---ing tablecloth!
OK, enough with the
f-bombs
(cause while I do let that word slip, I keep my blog as
classy
as I can.
::wink!::
). But I really could not stand Ms. Leo's Marc Bouwer mess. With its
stiff fabric
,
popped-collar
and
odd sleeves
, she looked like she would be an
age-appropriate
choice for the
94-year-old Kirk Douglas
to marry (but he's been taken by the same lady for almost 60 years). At least you have the Oscar!
While there were quite a few
trains
this evening (see
Hilary Swank
&
Halle Berry
) the
truly beautiful
Marisa Tomei was more of a
train wreck
in her
navy blue
, vintage Charles James Couture gown. Ms. Tomei looked like her dress designer couldn't
sew in a straight line
. Add to that her
terrible makeup
and
extremely questionable hair
and you get a
tragic tale
of letting a dress
stand out
more than you.
I had such
high hopes
after her
beautiful moment
at the Grammy Awards, but once again, Ms. Nicole Kidman has
missed the mark
. I can't even begin to describe this
disaster of a dress
, except to say that it's Dior Houte Couture, it's
strapless
and there are
weird designs
all over it. More than that, though, what are with her
strange
reddish-coral Pierre Hardy peep-toes
? Did she forget to pack shoes that actually
matched
? Did she know that she was going to
bomb on this carpet
so she figured, "Why not give them something to really talk about?" She shouldn't have bothered because everyone would have talked about that
marvelous
150-caret diamond Fred Leighton choker! Even my husband, when they panned to Ms. Kidman during the announcement of the Best Actress Nominees, said, "WOAH! Look at
that thing
!!!" But c'mon - she couldn't have used just a little bit of
Visine
?
Seriously
.
And finally we get to Ms. Lea Michele, who
once again
lands on the bottom list. What happened? Though she wasn't actually at the Oscars, she showed up at the
Vanity Fair Oscar Party
, and I simply could not let this dress go without a
proper lashing
. So, I know that I said last time that she should learn to
cover up
, but I didn't mean for her to take it to this
extreme
! Her sequined Roberto Cavalli was
long-sleeved
,
crew-necked
and
floor-grazing
, which given her age (24) is just
too matronly
. It was
backless
, though, so I'll give her that, but I will not forgive the
horrendously harsh makeup
.