Last Sunday marked the latest in the yearly awards season: The Grammy Awards! 2011 celebrated the 53rd year of the award in musical masterpieces. And the great thing about this award show - nay, the great thing about this red carpet - is that musicians are weird. Straight up strange people. And their fashion tastes often reflect their, ahem, originality. So here are my Best and Worst Dressed from the 53rd Annual Grammy Awards.
1. Jennifer Hudson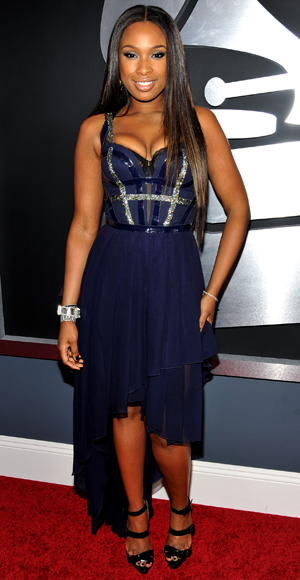 ........................................ Sorry, I was picking my jaw up from the floor. Wowzas! This Oscar- (and BAFTA, Golden Globe, Screen Actors' Guild & Grammy Award) winning, Weight Watchers spokeswoman pulled out all the stops, flaunting her newly svelte figure (she's lost more than 50 pounds!) on the red carpet. Her navy blue Versace gown was sexy but sophisticated with the sparkling bodice and asymmetrical hemline pumping up the glamour. Completing the look were Christian Louboutin Amber Patent Double Platform Sandals (yummy!!!) and Neil Lane diamond, platinum and onyx chandelier earrings and wide diamond and platinum bracelets. Flawless!
2. Selena Gomez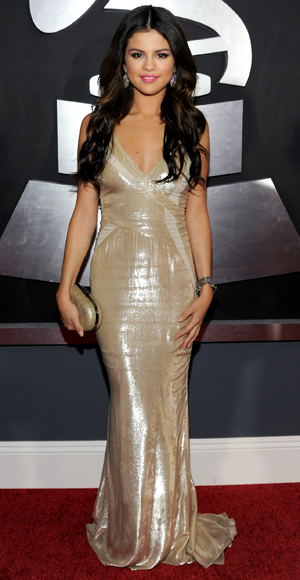 At the ripe age of just 18, Ms. Gomez shows the youngins how classy is done. The Goodwill Ambassador always dresses and acts her age, and is even (reportedly) dating age-appropriate Justin Bieber. Looking like a million bucks in her glimmering, champagne-hued J. Mendel gown, the singer/actress upped the ante with Lorraine Schwartz diamond earrings, two diamond bracelets and a Judith Leiber clutch. Oh, and picture-perfect makeup.
3. Nicole Kidman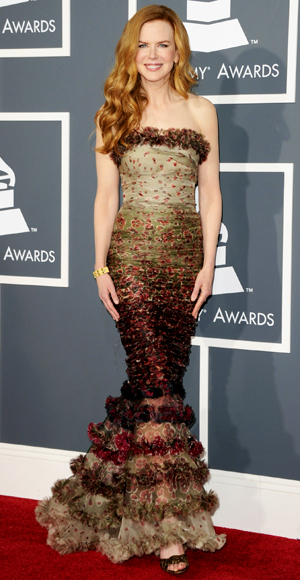 I can see how the new mom's look may be a miss for many, but I actually gasped a little when I came across this picture. I normally can take-or-leave the ex-Mrs. Tom Cruise (though Moulin Rouge will always have a place in my heart). This Jean Paul Gaultier haute couture petal-print gown came straight off the runway, and couldn't have looked better (well, maybe if it stopped at the knees, but the bottom gives it a little extra flair - something pretty necessary to stand out at the Grammy Awards!). In addition, her Fred Leighton antique emerald and gold pendant earrings and bracelet, plus those soft, cascading red curls add a touch more glamour. But by far, the best accessory is that mega-watt smile.
Honorable Mention: Lady Gaga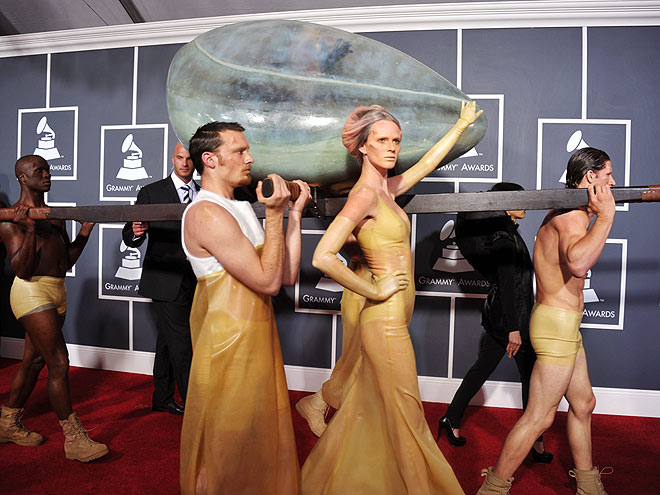 First, can I say that I love love love Lady Gaga. And while she never actually was seen on the red carpet, girl showed up in an egg! How can that not be awesome? She said she stayed incubated in that egg for 72 hours, and I can believe that. While she couldn't quite crack my top-three, the Born This Way and triple Grammy Winner definitely warrants a mention.
And now, for my three least favorite looks.
1. Kim Kardashian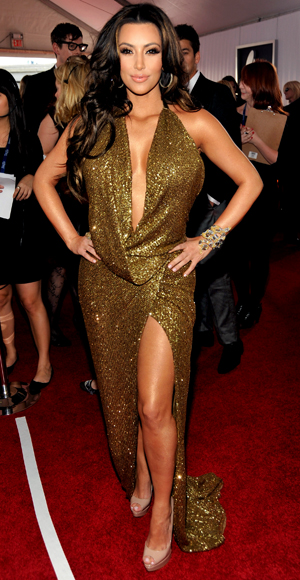 First, why was she there? Is she a singer now? Girl is over-exposed and I'm just sick of seeing her everywhere. And seeing everything. You know how they say to either show your cleavage OR show your legs? It seems Miss Kardashian was never given this wise advice and she is over-exposed everywhere she goes. She told Ryan Seacrest that she nearly didn't show up due to a mini-crisis with her glittering Kaufman Franco gown, saying, "They tailored it to where my whole butt wouldn't fit into it – the designers had to come in and fix the whole thing!" Apparently they didn't fix it enough, and thus she lands on my worst dressed list.
2. Lea Michele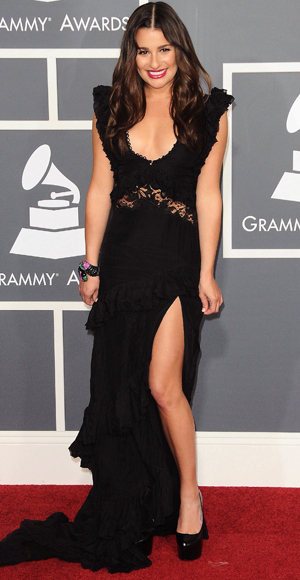 Yes, believe your eyes. Miss Lea Michele is on my worst dressed list. I'm guessing it's because she didn't go with her usual Oscar de la Renta, opting instead for this lace cutout Emilio Pucci. We get it, Lea, you like to be seen as sexy, but I think you just try too hard! Just like Ms. Kardashian before her, being sexy without being in your face is a lesson Ms. Michele needs to be taught.
3. LeAnn Rimes
Maybe Ms. Rimes has been under a lot of pressure recently with her upcoming nuptials, but girl needs to eat a sandwich. This Reem Acra gown simply hangs on her sickly-looking frame, and I don't even know what's up with those - what are they, brown?! - heavy-looking shoes peeking out from underneath. All around, just yuck.
Honorable Mention: Nicki Minaj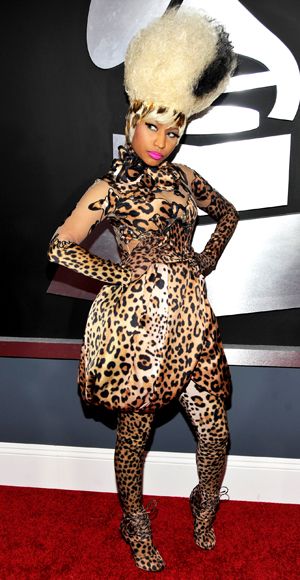 I couldn't put her in my bottom 3, simply because at least girl took a
risk
. Her "
fierceosity meets fabulosity
" Givenchy head-to-toe leopard print... outfit?... did its job and turned heads. Gotta give credit where it's due, but
girl's no Gaga
.
What do you think? Agree? Disagree?