The hosts were announced, followed by the nominations. Then came the analysis of the nominees, and perhaps even more so, the snubs. The predictions were made - will Christian Bale conquer (or more importantly, shave)? Will Natalie Portman announce her baby's gender while she's giving her Best Actress Winner speech? Will newcomer Hailee Steinberg beat veteran Melissa Leo? How can Mila Kunis top her McQueen gorgeousness at the SAGs? Will Amy punch the TV if The Social Network wins best picture (for the record, yes, I would have. What a terrible waste of time it was watching that movie.)? After what's seemed like forever, the 83rd Academy Awards finally aired on Sunday, February 27, 2011 (my daddy's birthday!).
Can I start off by saying that although I had been anticipating this awards show for quite some time, I was pretty bored by the whole thing. From the hosts (I love you, James Franco, but c'mon) to the winners (were there really any upsets?), and even on the red carpet, there wasn't much life in this year's Oscars.
Alas, as I'm bound to do, here is my humble opinion on the best and worst beauty looks of the evening, though I'm keeping it short (because there really wasn't much that stood out to me).
She can do
no wrong
, am I right? Mila can really make any look seem
dramatic
(again, those eyes!!), but in reality, her makeup was pretty
simple
but
perfectly polished
.
Lancôme makeup
artist Tracey Levy drew inspiration from the ah-may-zing lilac
Elie Saab
wonder that
draped effortlessly
on Ms. Kunis's
fabulous body
(more on that tomorrow, natch). Starting with her skin, Mila was given a
flawless base
with
Teint Miracle Lit-From-Within Foundation
($37), and her
cheeks were dusted
with
Blush Subtil in Sheer Amourose
($30).
Layering shades from
Color Design 5 Pan Palette in Coral Crush
($48) and
Color Design Eye Shadow in Impress
($17), Levy created a
natural and soft
eye makeup look. Mila's
top and bottom lash lines
were then lined with
Le Crayon Khôl EyeLiner in Black
($25) and her upper and lower lashes were both given a
double coat
of
Hypnôse Waterproof Custom Volume Mascara in Black
($25).
For those luscious lips, Levy used a layer of three colors, starting with
Color Design Lipcolor in Pale Lip
($22), then adding a punch with
Color Fever Gloss in Blazing Pink
($26), and finishing up with
La Laque Fever Lipshine in Lucent Nude
($27).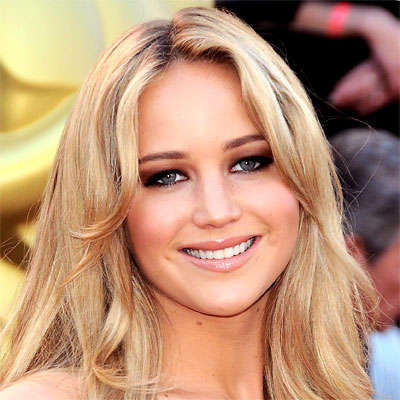 Steve Granitz/WireImage
Also
looking lovely
was Miss
Jennifer Lawrence
, nominated for Best Actress for her role in the
gritty Winter's Bone
. Though her character
didn't shine a very good light
on us
Missouri gals
, her turn on the red carpet screamed
bombshell
(and so did some of her really
cheesy "boobs out!" poses
). Her makeup artist Jillian Dempsey wanted to focus on Jennifer's
natural beauty
and gorgeous eyes, which she empahsized with
lots of black mascara
and
liner
. She then
built up her lids
with a layering of the four colors found in
Avon's Eyeshadow Quad in Blushing Raisins
($9). Finishing with a nude lip forced everyone's eyes on hers.
Well, that was about it for my favorite beauty looks.
Nothing really stood out
; everyone kept things
simple and predictable
, which lead the way to a simple and predictable evening. And really, there was
only one look that I was truly not a fan of
(though many were), and that was the makeup of
Miss Scarlett Johannson
.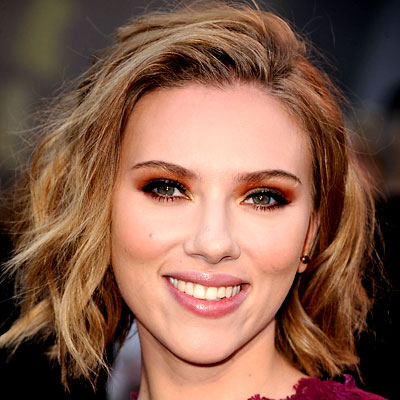 Steve Granitz/WireImage
"I wanted to keep her look very
young and fresh
," said makeup artist Gianpaolo Ceciliato, the man behind her makeup. Focusing on her eyes, Ceciliato used
Dolce & Gabbana The Smooth Eye Colour Quad in Stromboli
($59) on the
face
of Dolce & Gabbana The Makeup. But for me, the look was simply
too strong
for such a beautiful face. I applaud her for taking a risk and for at least standing out, but the look kinda
makes me feel ill
. I do
love her lips
, though, which were
simple and sweet
in
Dolce & Gabbana lipgloss in Candy
($29) (though she should have probably
invested
in some
Crest 3D White Whitestrips
. Just sayin'.).
What do you think? Anyone stand out to you?