Can I admit something? My first designer item was an umbrella. That I found on a train. ::shame:: But it was just lying there with no one - I mean no one!!! - around. There were 3 of us in the whole car and not a soul was sitting on the bench where the beautiful, princess pink umbrella sat. So, being the never-let-anything-go-to-waste kind of girl I am, I figured I would put it to a lot better use than it would get sitting in the lost and found of Yodoyabashi Station.
It was a Yves Saint Laurent umbrella. And it is so
me
. Pink with silver glitter bows all over it. It's glorious and I love it.
After seeing the sparkle in my eye once the realization set in that
I
had a designer item, this find actually lead to my husband getting me my first real designer item - a Coach wallet. A gorgeous, sexy, fabulous, black Coach wallet. Just like this: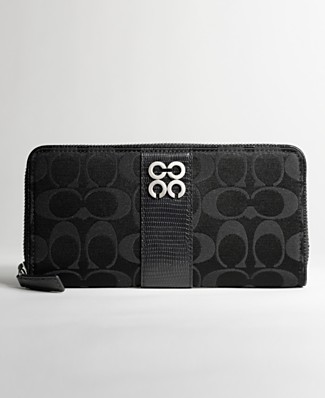 You should see its blue insides.
I love it. Purchasing it directly from the Coach store at Caesar's Forum Shops in Vegas was icing on the cake. I felt... yummy. I'll never forget it. My husband sure is amazing!
So I tell my husband, "You know where this wallet would look amazing? Inside a Balenciaga bag! See! They have a Balenciaga store right there, too!"
Say my name, say my name...
"Is
that
how you say it?" he asks.
"Hmmm...." I think to myself. "I think so..."
That's the problem (or maybe the point?) with designer stuff. You feel like a fool pronouncing it because what if you're saying it wrong? It's like only once you're rich enough to afford it will you be able to actually say it. Or you have to be French... le sigh.
Just saying those few sentences makes me feel like I should be wearing a bloody apron (a butcher - get it?). But repeat after me: Ehr-vay Lay-jay (Hervé Léger). Mar-kay-sa (Marchesa). Comb-day-gar-sewn (Comme des Garçons). Zhan Paul Go-tee-aye (Jean Paul Gaultier). Loo-boo-tahn (Louboutin). Jee-von-shee (Givenchy). Spoken like a true socialite!
For more how-the-heck-am-I-supposed-to-say-this designer name guides, check out
this website
and impress all those well-to-do ladies you (wish you could) go shopping with. Or, at the very least, you can have the smug satisfaction of knowing you
could
say it...
if
you needed to.
Oh, and by the way, it's Bah-lin-cee-ah-gah. ;)