One of my (and many ladies') favorite parts of award shows is seeing the beautiful - and hideous - garments that the glamorous celebrities show up in. I always find it fascinating to spot the trends, such as what color will show up the most (both on the red carpet as well as on the racks at stores), what cut will make an impact on the prom dress trends for the following year, and who tried to wear something "on-trend" and failed miserably? Here are my picks for Top 5 Best Dressed, and Bottom 5 What Were They Thinking?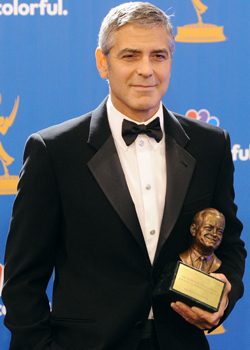 Looking dapper, Mr. Clooney
I'm going to go with the least surprising first. Lea Michele made pretty much every best-dressed list, which came as no surprise because this lovely lady rarely fails on the red carpet.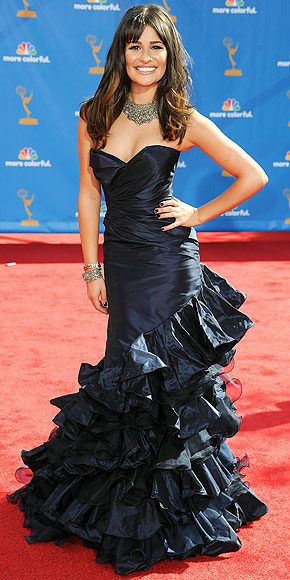 Credit: Frazer Harrison/Getty
Lea Michele
If only every girl could don an Oscar de la Renta for her 24th birthday! Not only was it a special day for Michele personally, she also hit the nail on the head with this ruffled, midnight blue de la Renta. I'm not certain if she is just so astute to trends, or if she actually makes the trends, because girl picked the color of the night. She told Kim Kardashain that she felt like wearing blue because she knew what she had and hadn't worn in the past, and her smart choice and intuition solidified her spot on countless best dressed lists. Topping it off with a Lorraine Schwartz bib necklace that accented the sweetheart neckline, the Glee cutie proved she didn't need to win an Emmy to be the night's biggest winner.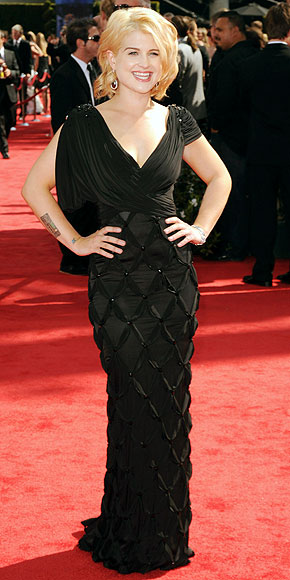 Credit: Jason Merritt/Getty




Kelly Osbourne
What a difference a stint on a dancing show makes! I was shocked at how well-put together the newly slim - and newly single - princess of rock looked. With the sexy plunging neckline and the intricate geometric texture (textures were another huge trend that night!) on her Tony Ward gown, the new E! Fashion Police commentator proved that she knows what to wear. I'm also glad to see she washed that man - and that strange lavender color - right out of her hair.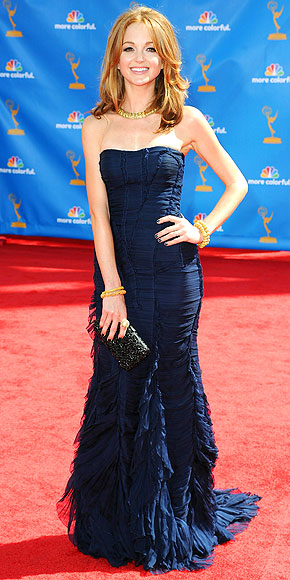 Credit: Frazer Harrison/Getty
Well, look here! Another Glee star in the color of the evening. Jayma Mays' dark navy, strapless Burberry Prorsum gown was flawless. The gold Neil Lane jewelry was the perfect accent to the ruched garment, and her strawberry blond Bridget Bardot-inspired hairstyle was the icing on the most fabulous of cakes.
While I'm not always the biggest fan of her character Deb on Showtime's hit series
Dexter
, I do find myself always admiring Carpenter's fashion choices on the red carpet (plus, I love seeing her and Michael C. Hall together). In her gunmetal gray one-shouldered Oday Shakar gown, Carpenter showed off her killer sense of style. She looked fabulous and stood out for her bold and unconventional choice for the summer awards show.
Now for my surprise choice of the night, but one that I think is well-deserved. Looking serene in a lavender BCBG Max Azria column gown, the 30 Rock beauty showed that simple can outshine extravagant (which is why she made my list instead of Clare Danes). I like unexpected choices, and I was disappointed to see that Bowden hadn't made it more on the radar for this amazing and flawless pick.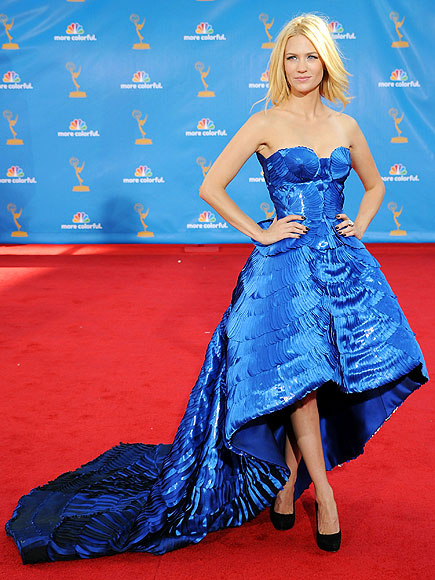 Credit: Frazer Harrison/Getty
January Jones
I was actually surprised at the fact that she was on quite a few of the best-dressed lists, but I suppose that could be because her ruffled, bold cobalt blue Atelier Versace had so much drama and was such a huge deviation from the more conservative - but always fashion forward - Betty Draper. But for me, the lead actress in a drama nominee's asymmetrical hoop-lined gown was an electric blue mess. She was bashed for her blah hair and subtle makeup, but I think her edgy buttery bob is the best part of this outfit. If she wanted to stand out and go dramatic, however, she should have followed through the whole way, which is where she went wrong.
Frazer Harrison/Getty Images
The sassy star of the Office brought out her inner high school girl in this prom-worthy Aguri Sagimori dress. Topping off - literally - her ridiculous choice was the oh-so-now poof ball bun (see Glee star Naya Rivera). All in all, it was a brutal miss for the normally stylish 31-year-old.
Jason Merritt/Getty Images



Lauren Graham
This Yigal Azrou
ël two-toned, ill-fitting mess of a dress made t
he "Parenthood" star look
dowdy and blah. In a sea filled with intricate textures, popping colors, and high-wattage glam, Graham sank - and quickly. Her messy hair and accessory overload secured her place on my Worst Dressed.
Rita Wilson
Oh, my. I know you are getting older, Ms. Wilson, but that is no excuse to dress so badly. So so badly. You're still such a looker, and your hubby has aged well, so what on earth made you think that those ghastly Lucite heels were okay? In any context? And that's not even to mention the chainy Prada gown (can I even call it a gown?) draped over your white tee and skirt. Is that your midriff showing? I... don't even know what to say.
Jason Merritt/Getty Images
Kate Gosslin
Last, and quite possibly least (though I'm not sure you can go much lower than Rita Wilson) was the reality star mother-of-8 that pretty much everyone is sick of.
Her Carmem Marc Valvo frock was too-top heavy, and ill-fitting at that. Her hair - which seemed to have its own tabloid storyline for a while there - was also poorly executed. She looked better in the opening skit video than she did on the red carpet. Should have stuck with that pony tail and flaminco dancer's dress, Kate. It was infinitely more flattering.